History: Since the release of the Magellan Explorist 510 610 and 710 units.
We have encountered many customers requiring repair for Corroded Battery Contacts. The problem is that the battery acid corrodes the contacts.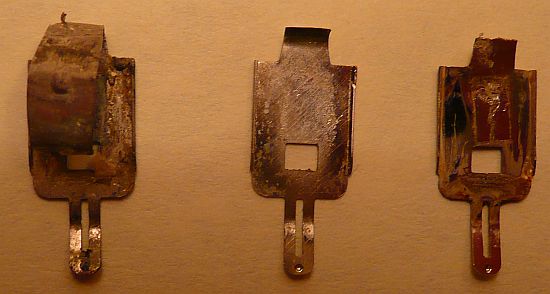 The problem is compounded by the fact that even if you could wash off most of the battery acid the fragile 0.2mm Spring Leaf Contact losses most of its elasticity. In many case, the severity of the acid corrosion is that it breaks the connection to the motherboard. Sometimes just the continued use of the Spring will led to its complete fracture. Notice the two examples of broken contacts on the side right of the photo insert.
To give you an example, we have received estimates that between 9 - 12% of all the shipped units have required replacement of the contacts. This amounts to many, many tens-of-thousands of units.
Customers inquire if we do this repair. The bad news is that we can only replace the complete back panel. The other problem is that customers outside of the USA have to pay heavy postage to sent their units in for repair.
Magellan has taken advantage of the user by offering a trade-in plan to its customers. As you know, they do not sell parts or do repairs.
Their trade-in plan is a discount of approximately 40% off a replacement unit. If the customer chooses a Refurbished unit, the warranty is only 90 days. Magellan fails to mention that any Summit, City or Specialty maps added to the GPS, other than maps provided originally, will not work on the new units. This is because the serial number of the new GPS will not match the old one.
Their policy of replacement is much higher than our cost to replace the entire back panel with a new one.
After repairing thousands of these puppies, we decided to offer the service on this web page. It is an economical way for the user to either have us repair the component or for the user to do the project themselves.
Our plan greatly overcomes the exorbitant price of postage abroad and offers excellent service. Additionally our customers do not have to be concerned with GPS serial number mismatches or the use of their present maps or other data on their unit.
JG